Introduction
Samoyedcoin's (SAMO) strategy is based on four main pillars: community building, education, marketing, and innovation. Community building involves creating a strong and supportive community around SAMO and Solana, where members can share knowledge, ideas, and experiences. Education is about educating the community and market participants about the Solana ecosystem and its potential, as well as providing resources and tools for developers to build on the Solana blockchain.
Marketing involves leveraging the power of memes and social media to attract new users and raise awareness about SAMO and Solana. Finally, innovation is about pushing the boundaries of what's possible with a Web 3.0 community, exploring new use cases for SAMO and Solana, and collaborating with other projects in the ecosystem to drive growth and adoption.
SAMO's approach is unique in the crypto space, and by establishing itself as Solana's ambassador and pushing the limits of what's possible for a Web 3.0 community, SAMO is well-positioned to drive adoption and growth in the Solana ecosystem. This article explores the background and features of SAMO, its potential as an investable digital asset, and its driving force for community-building in the Web 3.0 era.
What is SamoyedCoin?
Source: Samoyedcoin - Samoyedcoin
Samoyedcoin (SAMO) is a cryptocurrency that was launched on the Solana blockchain in 2021. It is a "meme coin," which means it was inspired by popular internet memes, specifically the dog breed samoyed. The project was reportedly created to be a fun and community-owned cryptocurrency, to onboard new market participants, publicize the underlying blockchain, and infiltrate the modern-day culture. Its tokenomics are designed to promote long-term value and sustainable growth. SAMO aims to be more than just a "dog coin," but rather Solana's ambassador and a tool for onboarding and marketing the Solana ecosystem.
Tokenomics
Source: Samoyedcoin - Samoyedcoin
Samoyedcoin has a total supply of 1 billion tokens. Of this, 14.4% was allocated for airdrops, 3.9% for the team, 10% for marketing, and 66.1% for token burn. SAMO uses a deflationary model where a portion of each transaction is burned, reducing the total supply over time. Specifically, 1% of each transaction is burned, and another 1% is redistributed to holders as a reward for holding.
The SAMO token can be earned through various liquidity mining programs, including Cropper Finance, Raydium, Orca, and Solend. SAMO is also tradable on Gate.io. As the ecosystem grows, the team intends to continue developing additional use cases for SAMO and exploring new liquidity opportunities to support the token's long-term growth.
The consensus mechanism used by Samoyedcoin is Proof-of-Stake (PoS), which allows network participants to validate transactions and maintain the network by staking their coins. SAMO hit an all-time low of $0.0006756576% in April 2021, and reached its all-time high of $0.236987 in October 2021.
Governance
The SAMO community is empowered to shape the direction of the project by participating in governance decisions through SAMO DAO, which is currently in development. SAMO DAO will allow SAMO holders to vote on key decisions that affect the project, such as tokenomics, partnerships, and community initiatives. The DAO will be governed by a group of elected representatives overseeing the decision-making process and ensuring that the community's interests are represented.
Additionally, SAMO holders are encouraged to participate in the community through the project's various communication channels, including Discord, Twitter, and Telegram. The team is committed to fostering a transparent and inclusive culture, where community members can freely express their ideas, opinions, and feedback.
History of SamoyedCoin
Samoyedcoin (SAMO) cryptocurrency officially launched in June 2021 on the Solana blockchain. The project was created by members of the Solana blockchain community, including Alameda Research CEO Sam Bankman-Fried and Solana co-founder Anatoly Yakovenko.
The cryptocurrency aims to support various animal shelters and charities, as well as to create a community of like-minded individuals who are passionate about helping animals. Samoyedcoin is also said to use some of its transaction fees for buyback and burn tokens, reducing the cryptocurrency's overall supply and potentially increasing its value. Samoyedcoin has received some attention in the cryptocurrency community due to its distinctive branding and concept despite being new.
SAMO NFTs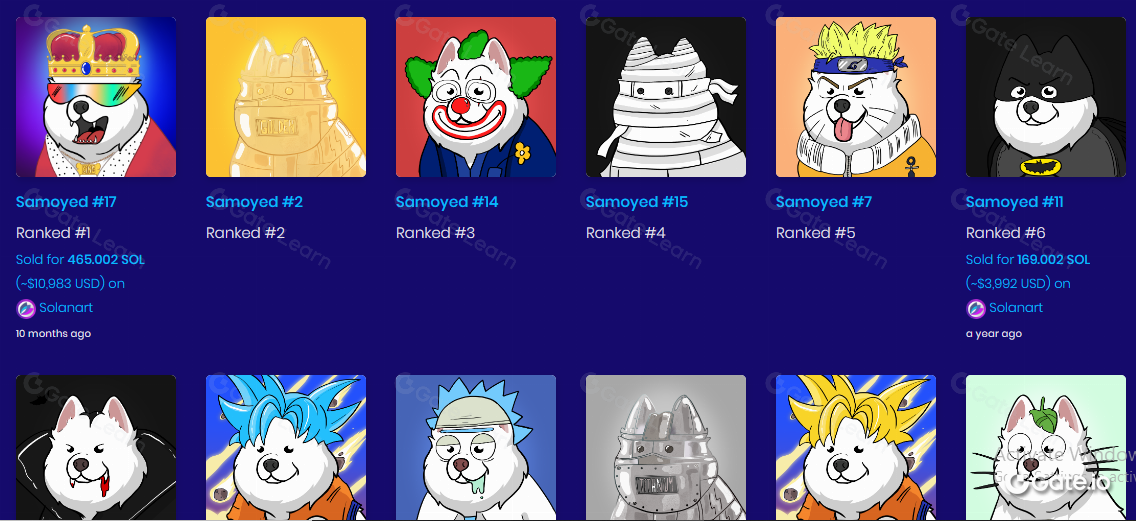 Source: Rarity Rankings - Samoyedcoin NFTs
SAMO NFTs are non-fungible tokens that are part of the Samoyedcoin project, built on the Solana blockchain. These NFTs are unique digital assets that are stored on the blockchain and are designed to represent ownership of a particular Samoyed dog with a blend of unique attributes.
The SAMO NFTs are divided into various collections, each with its own unique set of features and traits. These collections include the Genesis Collection, which consists of 5,525 randomly generated, custom designs on the Solana blockchain, as well as future collections that will be released by the Samoyedcoin team.
Owning a SAMO NFT allows holders to participate in exclusive events and gain access to VIP channels on the Samoyedcoin Discord server. It also provides a way for community members to tie their online identity with the Samo Famo community and show their support for the Solana ecosystem.
In addition, SAMO NFTs can be lent out on the Sharky.Fi platform to earn more SOL, and owners can write their lore on SamoStories.App. As the Samoyedcoin project continues to evolve, there may be additional uses and benefits for SAMO NFT holders.
Note: Sharky.Fi is a Solana-based decentralized lending and borrowing platform that allows users to lend and borrow crypto assets without intermediaries. Also, SOL is the native cryptocurrency of the Solana blockchain.
SAMO Stories
SAMO Stories is a platform where SAMO NFT holders can create and share their lore and stories about their NFTs. It allows holders to write and publish their narrative, making their NFT more than just a digital asset but a unique piece of art with a story to tell. Additionally, SAMO Stories provide a creative outlet for community members to express their love for the Samoyed breed and the Solana ecosystem while showcasing their imagination and storytelling skills.
Importance of holding SAMO
Holding SAMO provides several benefits to its holders. Firstly, SAMO holders get exclusive access to VIP channels and events in the Samoyedcoin Discord community.
Holding SAMO will provide access to Solana-based platforms where SAMO has utility.
Furthermore, owning a SAMO NFT provides a unique way for community members to show their allegiance to the Samoyedcoin community and the Solana ecosystem.
As the project grows and expands, an additional utility for both SAMO and SAMO NFTs is expected to become available to holders, making it increasingly valuable to hold SAMO.
Is SAMO a Good Investment?
SAMO has a strong team of developers and community managers who are dedicated to building and growing the project. The team has a clear vision, mission, and strategy for SAMO, making it a potentially investable digital asset for those interested in the Solana ecosystem and the future of Web 3.0.
How to Own SAMO
To own SAMO, you can use the services of a centralized crypto exchange. Start by creating a Gate.io account, and get it verified and funded. Then you are ready to go through the steps to buy SAMO.
Conclusion
With its strong emphasis on community building, Samoyedcoin is not just a Web 3.0 experiment, but a family that is dedicated to pushing the limits of what's possible for a Web 3.0 community. By serving as Solana's ambassador and trusted community for getting up to speed with all things crypto, Samoyedcoin is well-positioned to accelerate the adoption, development, and growth of the Solana ecosystem.
As the power shifts from governments to the people, Samoyedcoin is leading the charge on Web 3.0 community building and proving that it's the most efficient and hardest of dog money in existence. With its unique approach and strong community, it is poised to make a lasting impact in the crypto space and beyond.