Metaverse
Have you ever imagined yourself living an adventurous life like in the movie Ready Player One? Metaverse is such a digital world where reality and imagination come together. At Gate Learn, we will take you on an early adventure into the metaverse.
This article delves into the features, pros, and cons, and real-world applications of the P2E single-token, dual-token, and other extended variant models. It aims to help players understand how project teams design the economic models of blockchain games, enabling them to strategize their gameplay accordingly.
Treasure DAO is a native decentralized game ecosystem running on Arbitrum, and it brings together games and players through its native token, $MAGIC. The platform integrates NFTs, DeFi, and GameFi dApps, with the aim of supporting NFT and metaverse projects to build their own ecosystems on the platform and achieve integration between projects.
Xangle is a cryptographic analysis company dedicated to exploring the evolution of the token economy model in the Web3 gaming environment, focusing on the challenges and solutions that have been developed in building a sustainable gaming economy.
Yuga Labs is a company based in Miami that aims to shape Web3 through storytelling, experiences, and community. They have created many legends in the NFT space. Yuga's IP strategy is unique, constantly expanding its influence and driving the development of IP products through collaborations with celebrities, Web2 brands, and online/offline events. Yuga has also ventured into the metaverse game Otherside, showcasing its technological and creative prowess. However, Yuga also faces challenges, including the difficulty of achieving grand goals and the impact of market fluctuations on prices. Nevertheless, Yuga has set a new benchmark in the NFT space and still holds great potential for the future.
In a BlockBeats report on July 13th, Binance Labs invested $15 million in the blockchain gaming issuer, Xterio. The capital will fuel further advancements in game development and technology, including AI integration and token launches. As a part of their long-term strategic partnership, Binance Labs is poised to foster Xterio's growth, with the Xterio token slated to debut within the BNB Chain ecosystem.
Bloktopia is a tokenized and decentralized metaverse that stretches the boundaries of our minds by creating an all-inclusive virtual realm that entertains, educates, and enables users to earn while at it.
Explore the immersive metaverse of Star Atlas. Click to learn more about the future of blockchain play-to-earn gaming.
As a major force in socialFi and GameFi, MEEET is not only limited to the development of community interaction but also successfully obtained $30 million in seed round financing after integrating the concept of AIGC. In addition, the successful launch of Arbitrum on this platform has achieved the dual-chain operation of BSC & ARB.
Moonbirds is a collection of 10,000 Ethereum-based NFTs, with each NFT featuring a pixelated owl character adorned with unique and random attributes. Like Bored Apes, Moonbirds owners possess intellectual property rights, allowing them to leverage their avatars to create various products, services, and merchandise. Additionally, they enjoy privileged access to a private community called PROOF Collective.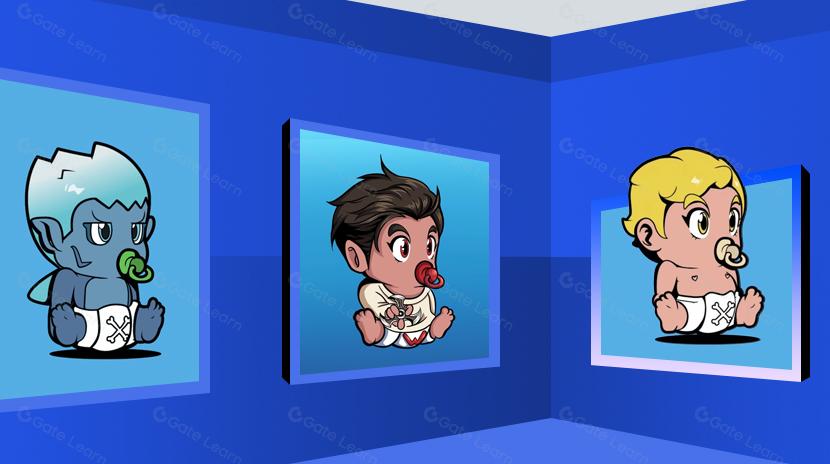 Memeland is an NFT ecosystem conceived by the renowned internet content powerhouse, 9GAG. It is not a monolithic NFT collection but rather a multifaceted ecosystem composed of a plethora of NFT collections, incorporating elements such as membership systems, DAO, governance communities, and Web3. In 2022, when the NFT market was subdued, Memeland emerged as a rarity, capturing market attention and drawing the gaze of numerous NFT investors. Notably, the Captainz NFT collections alone accrued over 9,800 ETH in royalty revenue. Memeland's triumph might seem serendipitous, but the constellation of advisors and investors it boasts is nothing short of illustrious, including American entrepreneur Gary Vaynerchuk and Moonbirds founder Kevin Rose, as well as venture capital firms like Freestyle Capital and First Round. Memeland harnesses its communal acumen in building communities and social media, expertise cultivated over 14 years, and channels it into the Web3 domain, dedicated to crafting its bespoke Metaverse.
MARBLEX is a gaming ecosystem developed by Netmarble in 2022. The native currency of the ecosystem is the MBX token which can be earned as a reward.
Solar (SXP) is an open-source, layer-1 blockchain designed to facilitate decentralized payments, governed by a DAO and actively maintained by 53 delegates through a DPoS consensus model.
Crafted by Yuga Labs, Dookey Dash is a narrative-driven game that revolves around the Bored Ape Yacht Club (BAYC) ecosystem. The game's prologue was released in two phases earlier. In November 2022, the BAYC official Twitter account teased the enigmatic game, incorporating the animated story's worldview and adventurous gameplay from its previous releases. This creation also integrates the BAYC NFTs and the ecosystem's native token, APE. Upon its initial launch, the project garnered widespread attention from numerous players.
Established in 2019, GALA Games was envisioned to be a gaming platform on the blockchain. With consistent research and collaborations over the years, the platform has offered its players a vast and diverse array of blockchain games. Now, GALA Games can be likened to the 'Steam' platform of the blockchain industry, earning its title through not only the magnitude of its platform but also its wide user acceptance.
Samoyedcoin (SAMO) is a famous meme coin built on the Solana network to be a fun asset type, owned and managed by the community and effective in onboarding new market participants, and a publicity tool for Solana.