History
Alexander Ivanov, a Russian physicist, established the Waves project in 2016 after a successful token sale that raised 30,000 BTC in April and May of that same year. The network was created by the founding team in order to solve the limitations of the then-current blockchain platforms, which had only just seen a small amount of commercial adoption. As a result, Waves concentrated on scalability, performance, security, and user experience.
To make the development and administration of digital tokens easier, the Waves network was introduced in Q3 2016. In 2017, Waves began working with Microsoft Azure and was recognized as a Deloitte partner. Toward the end of the year, it also deployed Waves-NG, a new consensus mechanism based on Cornell professor Emin Gün Sirer's Bitcoin-NG idea. Up to 100 tx/second, more transactions could be processed thanks to Waves-NG. In 2018, the business unveiled a brand-new mobile application that gave customers of smartphones and tablets access to the majority of Waves' most well-liked features.
Currently, the platform hosts a variety of applications and use cases, from a decentralized exchange (DEX) and algorithmic stablecoins to DAOs, encrypted messaging, and gaming, and offers tools specifically designed to make the process of creating and operating dApps easier.
What Is Waves and How Does it Work?
The Waves blockchain is a leased proof-of-stake blockchain, which means that light nodes cannot download the blockchain at all and must rely on full nodes for network interaction and payment verification. Since only full-staking nodes can add blocks to the Waves blockchain, light nodes can lease their tokens to full-staking nodes to protect the network. For example, someone can lease their tokens to a full-staking node for 0.002 Waves if they wish to participate in the staking process but don't have the means to run a complete node.
Individuals that lease their money to full staking nodes are rewarded with up to 5% annual interest on the amount they leased and proportionate transaction fees.
The unique feature of Waves is that, unlike most blockchain networks, Waves does not provide its miners with a block reward. Instead, individuals that verify and relay transactions on the Waves blockchain (full-staking node operators) are rewarded with a bonus token called the Miners' Reward Token (MRT) and any transaction fees associated with the block.
Waves Use Cases: Staking, Custom Tokens and DEX
Staking
Blocks on the Waves blockchain can be created and verified by WAVES holders. Leased Proof-of-Stake is a version of the Proof-of-Stake consensus method used by Waves (LPoS). It resembles the Delegated Proof-of-Stake algorithm utilized by many well-known blockchains like TRON, EOS, and Cardano.
Proof-of-Stake (PoS) allows token holders with sufficient tokens to stake their tokens as a guarantee that they will become a node for validating transactions. Compared to Proof-of-Work, this consensus technique is substantially more scalable because it uses significantly less computational power.
However, one disadvantage of PoS is that it is out of reach for the typical token holder who could not have the necessary number of tokens. As a result, "whales" control most of the authority and reap most of the benefits.
Creating Custom Tokens
Ethereum and many other blockchains on their networks enable the production of unique tokens. Users can generate their own ERC-20 tokens on the Ethereum network. However, creating these tokens can frequently be fairly challenging and need in-depth programming and smart contract understanding. They can also be challenging to trade because the majority of the main exchange platforms won't take a new token unless they've had some degree of success.
The Waves project wants to be a serious contender in the bespoke token market. Anyone who owns a WAVES token can quickly create their own unique token on the network. A user must use a straightforward portal on their exchange app and pay a charge of 1 WAVES token to generate a bespoke token. No prior programming or coding knowledge is required, and once the token is created, it may be exchanged right away on the Waves DEX.
The Waves platform also supports the Initial Coin Offering (ICO) that some of these currencies will conduct to raise money for their creation and distribution. With the bespoke token site, the ICO can be set up in a matter of minutes instead of the usual lengthy and laborious process that most ICOs entail. The platform offers every choice required to personalize your token, including the total supply, decimal places, name, smart asset properties, and issuing information.
Waves DEX
The Waves ecosystem's decentralized exchange is a key feature (DEX). In this online exchange, no middleman or outside party is involved in the transactions made on the platform.
Most online exchanges operate using a centralized exchange that maintains a variety of token pools and reserves to execute the trades that customers request. As a charge for the transaction, the exchange frequently takes a portion of the trade. Users who value decentralization and anonymity may decide to refrain from utilizing these because there is less anonymity.
Decentralized exchanges, on the other hand, operate by matching users who want to trade or by forming pools out of user funds where participants are compensated for supplying the necessary liquidity. For security, smart contracts are frequently used to execute transactions. The absence of a fiat currency to cryptocurrency exchange option on the majority of DEXs can be a barrier to use. To use the exchange, users must first buy cryptocurrency on a different website like Coinbase or Binance.
Waves' Features: Ride, LPoS, Waves-NG and Gravity
Ride
Waves created the programming language Ride to minimize mistakes that could result in catastrophic failures. Ride makes it possible for developers to interact with other blockchain-based applications using the Integrated Development Environment in addition to Waves' other technologies (IDE).
It is a non-Turing complete language, intended for creating smart contracts. Even the original blockchain, Bitcoin, was created using Script, a non-Turing complete language. Because of the language's inability to enable smart contracts, Ethereum was created, which makes use of a Turing-complete language that does.
It was made with the intention of executing scripts on accounts and assets on the Waves blockchain. The Ride-based applications created within the Waves crypto ecosystem are very secure and reliable.
Leased Proof-of-Stake (LPoS)
In a normal proof-of-stake paradigm, any node that chooses to lock up tokens can qualify to add blocks to the blockchain. The likelihood that a node will be able to add a block can generally be increased or decreased depending on the number of bitcoin it has locked in a particular contract.
Through the LPoS, nodes might decide to lease their remaining balance to full nodes. This means that nodes that lend tokens to the full node selected to produce the following block and get payment share in the reward.
Waves-NG
Which node will be able to create the next block in the blockchain is determined by this protocol. The original concept for Bitcoin that was eventually rejected serves as the foundation for Waves-NG. The Waves blockchain is divided into "Micro blocks" and "Key blocks" by this protocol. Other nodes utilize a public key contained in the Key block to construct Micro blocks, which contain transactions, after a randomly selected PoS miner has created the Key block.
Gravity
Waves powers Gravity, a decentralized cross-chain oracle network independent of any particular blockchain. Gravity users can easily access data from various blockchains thanks to the WAVES token economics used in the platform.
On this network, developers can use pre-existing oracles and real-world data from different blockchains, or even better, they can establish their own oracles and data sets without having to create new tokens. This makes Gravity an underlying technology for "interchain DeFi," enabling developers to create a variety of decentralized finance solutions. It also makes cross-chain data transfers easy and frictionless.
Waves Ecosystem
In order to give regular people and businesses back control over their own finances, business processes, and much more, Waves was founded on the principle that blockchain technology is a technology of the people. This grassroots phenomenon offers significantly increased security, transparency, and convenience.
Waves is a "blockchain for the people" company that serves a wide range of stakeholders. Its platform is built to benefit consumers, business owners, and both individual and institutional investors. It is a network of enterprises, programs, and communities that all take advantage of Waves' cutting-edge and developing technology. The Waves ecosystem provides a range of community-developed projects and goods.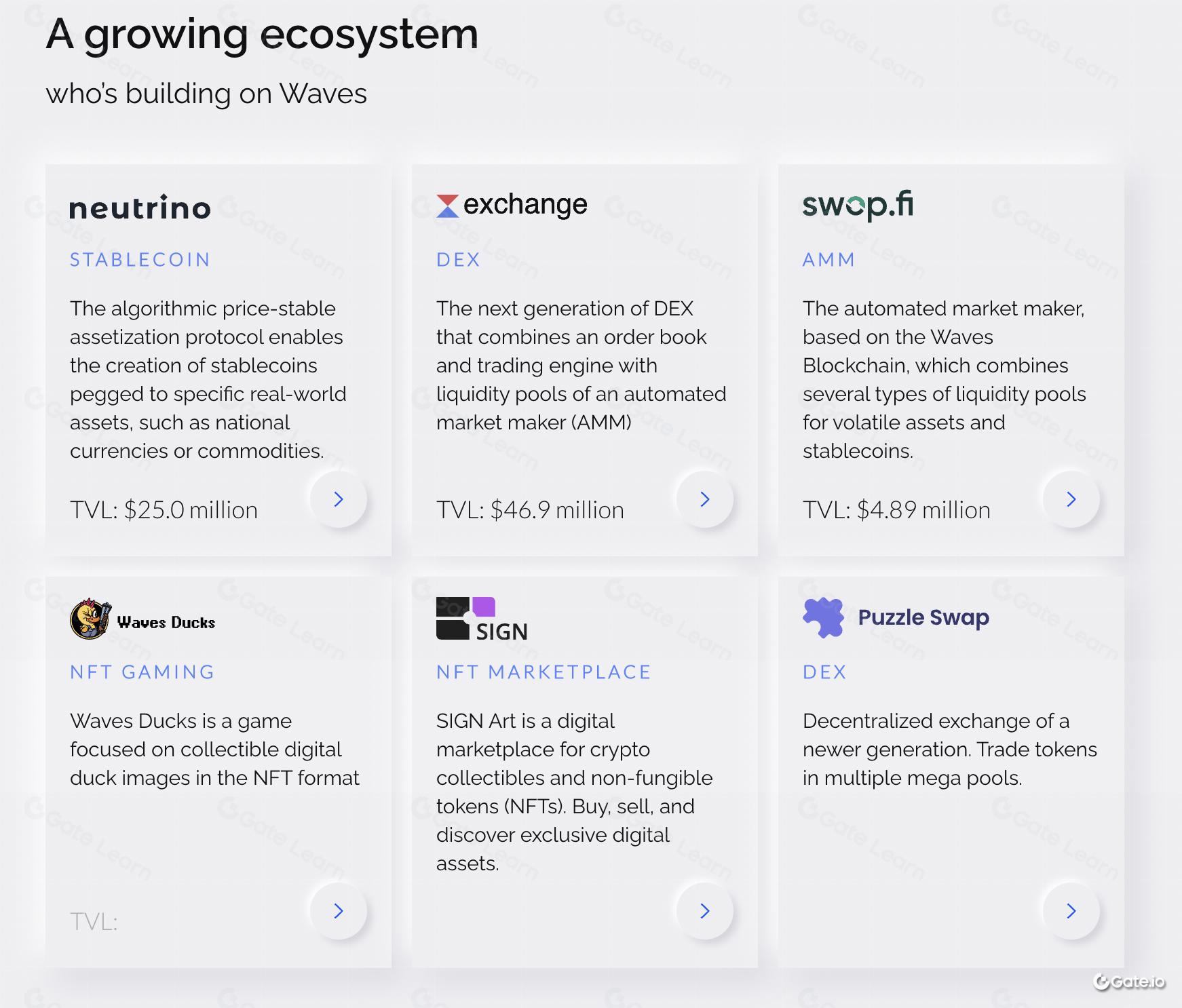 Source: Waves
What Is the WAVES Token?
The Waves blockchain's native token is WAVES. Transaction fees and block rewards are paid to block generators in WAVES, which motivates them to maintain and expand the blockchain network infrastructure. The likelihood that the generator will add the next block increases with the number of WAVES it currently owns or leases.
The transaction fees on Ethereum have the potential to spiral out of control, which is the main source of its frustration. During periods of high demand, sending a straightforward transaction can cost $5 or more. A DEX transaction may cost $20 or more.
The Waves platform has a flat fee for transactions, allowing anyone to use it whenever they want. The native WAVES token must be used to pay all transaction fees.
There are a few additional applications for WAVES aside from transaction fees. The token can be staked by investors to generate a passive income. The ROI on stakes is currently 4.3%. The costs related to creating new tokens are also covered by WAVES tokens.
Is Waves (WAVES) a Good Investment?
Waves is a proof-of-stake cryptocurrency that has surpassed a billion-dollar market cap despite not receiving venture capital funding. The project uses a new influx of cash to promote platform growth.
WAVES might be an excellent choice for people looking for a user-friendly blockchain experience and who plan to invest in a token or smart contract.
How can you own WAVES?
One way to own WAVES is to go through a centralized crypto exchange. The first step is to create a Gate.io account and complete the KYC process. Once you have added funds to your account, check out the steps to buy WAVES on the spot or derivatives market.
News on Waves
Leading decentralized finance (DeFi) trading platform WX.Network (WX) has partnered with Waves Camp, an ecosystem incubator recently established to expand the Waves ecosystem. The collaboration will result in the creation of WX launchpad, a platform for fundraising designed to assist initiatives in obtaining bootstrap funding from the Waves Community.
Waves' creator Sasha Ivanov stated, "Waves is and always will be about its community and environment first, thus creating such a potent tool as WX Launchpad is a logical and natural extension of this strategy." The platform will make Waves, its users, and its ecosystem even more powerful and inclusive by assisting numerous new teams and projects in locating the resources they require to build on Waves.
Any developer that wants to create their projects within the Waves ecosystem will have access to crowdfunding with the aid of WX Launchpad by easily listing their tokens on the exchange in an ICO (ILO). Furthermore, to further increase the value the Camp program can offer to projects wishing to develop on Waves, projects that participate in Waves Camp will also receive a guided path through the token verification process.
Useful References
For the latest updates about Waves, you can visit:
Take Action on WAVES
Check out the WAVES price today and start trading your favorite currency pairs.